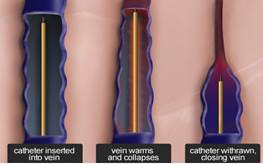 Ablation uses a thin, flexible tube called a catheter inserted into a vein in the leg. Through a tiny incision at the knee (the size of a pencil point), a small tube is placed into the saphenous vein. Then, a laser or radiofrequency fiber ispassed through the tube into the vein. Once in place, the fiber is activated, delivering very localized heat to the vein wall. In response, the vein closes down and becomes permanently blocked. Your vascular surgeon will advise you regarding which procedure is best for your particular situation.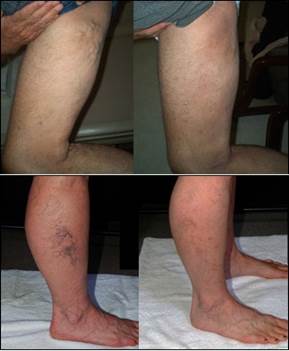 What do you expect?
These treatments are usually very successful. They reduce pain, and are also a good way to improve the appearance of the leg. Many of these treatments cause very little scarring, bruising, or swelling. Usually patients can start their normal activities within a day or so after many of these treatments. You will need to wear compression stockings during the day for a week after treatment.
Is it Painful?
The amount of energy delivered to the vein is actually very small and only affects the local vein wall. We use local anesthesia (like your dentist), but nothing stronger is generally needed.

What's My Next Step?
Ready for the next step? Request an appointment today by filling out the form, send it back by Email, Fax: 718-228-9845 or calling our direct line 646-620-6485